The History of Hans Monument

Our family has created custom Memorial Headstones, Markers and Monuments for well over 150 years, spanning 6 generations. In the United States, our stone art studio was established by Hans and Ursula Hüttlinger, German immigrants to the Millcreek, Utah area.

We are blessed to have remained a true family run business. Our founder Hans was a 5th generation stone mason who passed on his talent and craftsmanship to his son John, who continues to apply his family's old school traditions, his artistic training and talent, now enhanced with modern technological advances.
Contact us to create a custom, high quality, granite memorial to honor a loved one, from our family to yours.
In the News
In 2001, the Lion House in Salt Lake City commissioned us to re-carve the great stone lion in the front of their building. The new lion was hand carved by our owner John Huettlinger with help from his father, Hans.
This historic replica of the original sandstone lion remains one of our proudest achievements to this day.
Visit this news article to read more.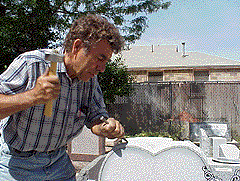 Pictured above is our founder Hans working hard on a stone.
This GIF was on our original web-page and we felt it belonged
here too!
Large selection of custom and unique designs for all sizes of memorial headstones, markers and monuments.

Excellent customer service to help you through the process of creating a beautiful memorial for your family.

On-site mobile services to engrave existing headstones and landscape rocks.
After our family's loss, we turned to Hans Monuments for their guidance. From start to finish, Hans Monuments took excellent care of us. We are so grateful to their customer care team and their talented artists who created the perfect tribute.

We have used Hans Monuments for all our cemetery markers for years. And each one turns out beautiful. The people who help us in the office at very heart broken moments are kind and respectful. The work on the markers is exceptional. And the installation at the cemeteries has been error free. What a great company this is and has been for many years.


This company is great because the guy running it is great. I've worked with John for 7 or 8 years now. He's fair in his dealings and treats people well.
Mission Statement
Hans Monument Company is a team of dedicated individuals working for the continuous improvement of the memorial and monument industry. We want to exceed our customer's expectations by listening to those we serve in order to improve our service and adapt to the needs of our customers. We strive to provide quality craftsmanship in a cost-effective manner that provides a high level of customer satisfaction.